No time is a convenient time to need towi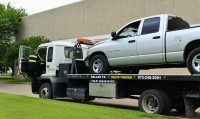 ng service. But when you do need a tow, SC Pro Tow is here to make your experience as convenient as possible. Wherever you go, our Fort Worth tow truck service is available to provide the truck towing, car towing, or other towing service you need. Our 24 hour Fort Worth dispatch service is ready to send our towing services anywhere Fort Worth drivers are found. Even our flatbed towing and our local and long distance SC Pro Tow services are never more that thirty minutes away.Whatever towing service you need we are always ready to respond, so give us a call and let us hook you up.
SC Pro Tow Brings You Fast Towing Service
Your life doesn't wait when you are stuck on the side of the road so neither should you.
With SC Pro Tow, you know that help is already on the way, so you won't lose any more time waiting. 24 hours a day our Fort Worth towing service is ready to roll out, so no matter what the circumstances we guarantee fast towing services to our Fort Worth customers.
Anywhere in Fort Worth, all our towing services are only 30 minutes away. From wheel lift towing to flatbed towing, we have the services you need and we are ready to bring them to you. So don't spend your day waiting for Fort Worth towing service to show up. Make the call to SC Pro Tow and we will get you back on the road quickly so you can move on with your life.
Dependable Towing Service For the Fort Worth Community
Our car SC Pro Tow team is ready for any vehicle and any towing service needs you can think of.
Whatever tow need you have you can count on SC Pro Tow to have all your needs covered. Our towing service is fast and effective, and you can depend on receiving the highest level of service as you expect.
When you need to be sure your vehicle is safe while moving across Fort Worth, our flatbed towing team is ready to help. For any towing service, call SC Pro Tow first for quality service you can depend on.
Call SC Pro Tow for any of our towing services including:
Dependable Tow Truck Service
Flatbed Towing
Light Duty Towing
Any Truck or Car Towing
Local and Long Distance Towing
Our team of experienced professionals has the skills to meet all of your towing needs.
For any towing service, from flatbed towing to light duty towing, call the specialists at SC Pro Tow.
(682) 200-2405