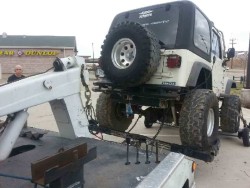 When you need Fort Worth roadside assistance, you only need to make one call. Waiting by your car for roadside assistance when you have run out of gas is bad enough, And a dead battery is already taking time from your day.
SC Pro Tow and their network of licensed affiliates experts are ready to respond so you won't lose more time looking for reliable service. Don't let a tire change or any other roadside hazard waste your day or night away. Even if you're not in a hurry, you have better places to spend your day than the side of the Fort Worth highway. Anywhere in Fort Worth, you can depend on service and speed. Our roadside assistance team is always ready, so you can depend on the fastest roadside assistance or off road recovery Fort Worth has to offer.
Our SC Pro Tow Team Is The First To Respond For:
Roadside assistance for a dead battery Jumpstart
Out of gas deliveries
Off road recovery and winch
Car door and trunk opening solutions
Any roadside assistance in Fort Worth
Call SC Pro Tow – We Are Always There.
Running out of gas or need a Fort Worth tire change can stop more than just your car. Your life never moves much faster than your wheels do. Let us help get your car and your life moving again. Our Fort Worth specialists are prepared for any roadside assistance you need to keep your life on track and your wheels turning.
Don't let your life sputter to a halt when you are out of gas. Our Fort Worth gas filling is here anywhere you run out of gas, And SC Pro Tow also has tire change specialists ready to roll, so a tricky tire change won't slow you down. You can count on our quality service anytime you're life is stuck on the side of the road. Just pick up the phone for any roadside services you need.
The Fort Worth Community Depends On SC Pro Tow
We and our network of independently owned and licensed affiliates know that fast, reliable roadside service is the only kind of roadside assistance Fort Worth needs. So SC Pro Tow's 24-hour team is ready to provide just that kind of service. With one call you know we are already on the way to you, with roadside assistance for any circumstances you can encounter. We bring all our assistance to you, with the same level of quality and service you would expect if you came to us. So don't hesitate when you need a hand, Give us a call and we're on the way.